Did you know that there are sandy beaches on Madeira Island?
Madeira Island is not usually known for being a beach destination, unlike Porto Santo, famous for its golden sands, however Madeira beaches will surprise you!
Here, the beaches are mostly of pebbles and volcanic rocks, which makes them different from the usual, but there are also some sandy beaches waiting for your visit. You will be impressed with its surrounding scenarios.

Sabiam que na Ilha da Madeira existem praias de areia?
A Ilha da Madeira não é habitualmente conhecida por ser um destino de praia, ao contrário do Porto Santo, famoso pelas suas areias douradas, no entanto, a Madeira vai surpreendê-lo!
Aqui, as praias são, na sua maioria, de calhaus e rochas vulcânicas, o que as torna diferentes do habitual, mas existem também algumas praias de areia à espera da vossa visita e que vos irão surpreender pelos cenários que as rodeiam.
---
Porto Santo
The 9 kilometre beach, with an extensive and continuous shoreline of fine golden sands, has given the island the popular name of "Golden Island", becoming its trademark and main icon, together with its uniquely crystal-clear, turquoise-blue warm waters, make it a unique legacy in our country and one that is rare all over the world.
It was voted the best "sand dune beach" in the competition "7 Maravilhas – Praias de Portugal" ("7 Wonders – Beaches of Portugal").
Discover an oasis of rest and relaxation in Porto Santo, surrounded by well-being and health, by enjoying a perfect beach for the perfect holidays, allowing yourself be lulled by the sound of the waves and caressed by a sand that fights all the ailments of modern living.
A praia de 9 quilómetros, com um extenso e contínuo areal de areias finas e douradas que fazem da popularmente apelidada "Ilha Dourada" a sua imagem de marca e o seu grande ícone. Com as suas águas cristalinas e amornadas, de um azul-turquesa irreproduzível, esta praia torna-se num legado único no nossopaís e raro no mundo, tendo sido eleita a melhor "praia de dunas" no âmbito do concurso "7 Maravilhas – Praias de Portugal".
A razão prende-se com a formação das areias da praia do Porto Santo, que são constituídas por microfósseis e pequenos fragmentos de algas calcárias, conchas de moluscos e outros restos fossilizados de organismos marinhos. São registos de um passado com cerca de 30 mil anos de história
Descubra no Porto Santo um santo descanso rodeado de bem-estar e saúde.
Calheta
The Calheta beach was the first imported sand beach in Madeira. It is surrounded by small breakwaters, which usually means fewer waves or sea currents. It has two rest areas where you can rent sun loungers, and an inflatable play area in the sea, which makes the children very happy. It is next to the Calheta marina with its promenade and various support facilities, such as W.C., changing rooms, volleyball courts and restaurants. It also offers a supermarket and a parking area with parking meters nearby.
A praia da Calheta foi a primeira praia de areia importada na Madeira. Está rodeada por pequenos quebra-mares, o que, habitualmente, faz com que tenha poucas ondas ou correntes marítimas. Tem duas áreas de descanso onde se alugam espreguiçadeiras, e um insuflável no mar, que faz a alegria das crianças. Fica junto à marina da Calheta, que dispõe de uma promenade com várias instalações de apoio, tais como W.C., vestiários, campos de voleibol e futebol de praia e restaurantes. Oferece também um supermercado e estacionamento com parquímetros, nas proximidades.
Machico
On the opposite side of the island (also on the south coast) lays Machico beach, also made of imported sand, with soft sand grains. One of its peculiarities is that you can contemplate the takeoff/landing of the aeroplanes in the Madeira Airport whose track is nearby. There's a promenade that gives access to this beach. There you can find a parking area with parking meters, as well as several restaurants and cafes with a terrace. Nearby, there is also the natural Machico beach, with pebbles and black sand, typical of the Island. There is a pontoon to access the sea.
No lado oposto da ilha (também na costa sul) encontra-se a praia de Machico, de areia importada, com grãos de areia amarela, macios e finos. Uma das suas particularidades é poder contemplar o descolar/aterrar dos aviões no Aeroporto da Madeira, cuja pista fica mesmo ao lado. Junto à promenade que dá acesso a esta praia, existe uma área de estacionamento com parquímetros, assim como vários restaurantes e cafés com esplanada. Ali próximo, encontra-se também a praia natural de Machico, com calhaus e areia negra, típicos da Ilha e um pontão de acesso ao mar.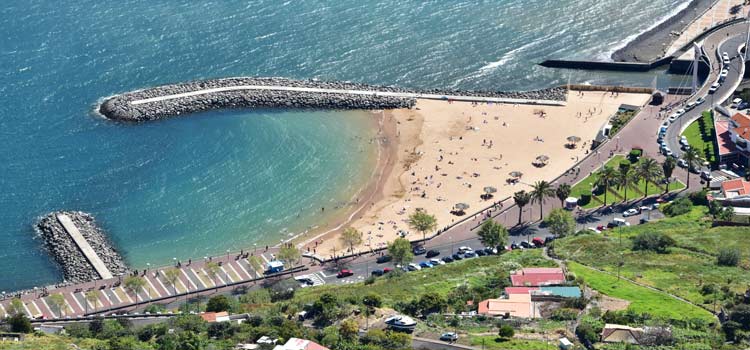 Prainha
Next to Ponta de São Lourenço, on the southeastern coast of Madeira, there is a small beach called Prainha. This beach of natural, thin and coppery sand, is sheltered in a cove. It is easily accessed, thanks to a pedestrian trail with some steps. You can park your car on the main road, next to the path. This beach is appreciated for its clear waters and breathtaking scenery. Around it, there are mountains with some trees and the picturesque Chapel of Nossa Senhora da Piedade. It has a restaurant with a terrace, W.C. and showers.
Junto à Ponta de São Lourenço, na costa sudeste da Madeira, fica a simpática Prainha. Esta pequena praia de areia natural, fina e acobreada, fica abrigada numa enseada. Acha-se facilmente, graças a um trilho pedestre com alguns degraus. Podem estacionar o carro no parque, que fica na estrada principal, junto ao trilho. É apreciada pelas suas águas límpidas e paisagem envolvente, deslumbrante. Ao seu redor existem montanhas com alguns dragoeiros e a pitoresca Capela de NossaSenhora da Piedade. Dispõe de um restaurante de apoio, com esplanada, W.C. e duches.
Seixal
The natural sandy beach of Seixal port, on the north coast of the island, is one of the most photographed beaches in Madeira, thanks to its unique scenery. Its beautiful, thin black sand is softened by the gleaming green of the surrounding mountains. It has a small harbour/pier next to the beach, which slightly breaks the force of the waves. Nearby are also the natural pools of Seixal, where you can enjoy beautiful dives.
A praia de areia natural do porto do Seixal, na costa norte da ilha, é uma das praias mais fotografadas na Madeira, graças ao seu cenário, arrebatador. A sua areia negra e fina é suavizada pelo verde reluzente das montanhas circundantes. Tem umpequeno porto/cais junto à praia, que faz quebrar, ligeiramente, a força das ondas. Nas proximidades, encontram-se também as piscinas naturais do Seixal, onde podem dar belos mergulhos.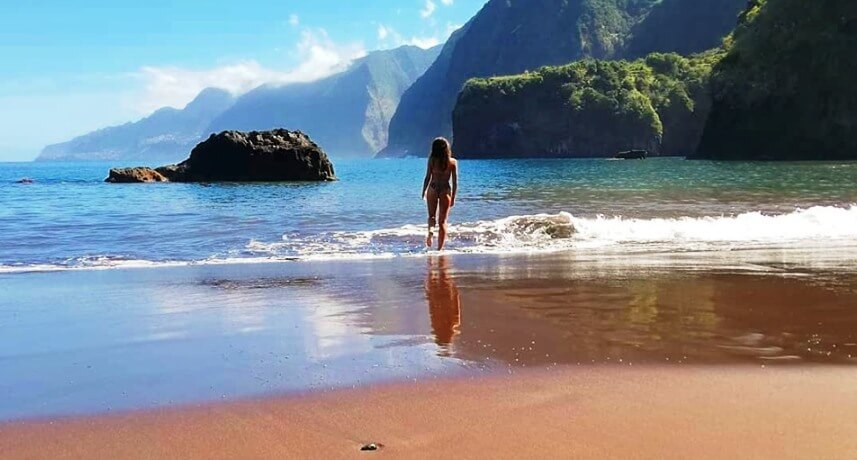 The Madeira sandy beaches offer impressive and unexpected landscapes, in the middle of the Atlantic Ocean.
As praias de areia da Madeira oferecem-vos paisagens inesquecíveis e inesperadas, em pleno Oceano Atlântico.